Policy which must lift people out of poverty
02:54 PM 06/02/2018
Views: 1623
Print
On June 20th, CEMA's (Committee for Ethnic Minority Affairs) delegation leading by the Deputy Minister, Vice Chairman Dinh Que Hai. Together with leaders of some Departments, units belong to CEMA, the delegation checked the current situation of deploying ethnic policies in Ba Thuoc district, Thanh Hoa province.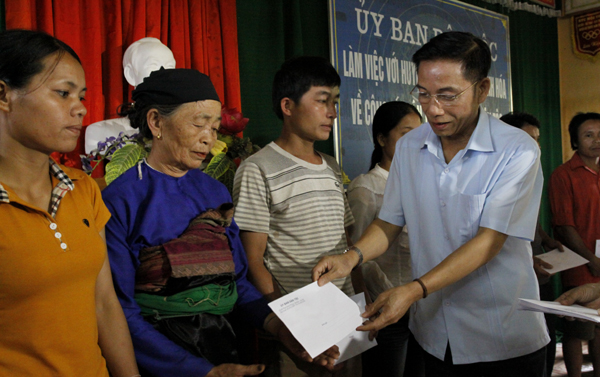 At Ba Thuoc district, the CEMA's delegation came to check the current situation of executing ethnic task in Thanh Son commune. According to Mr. Le Van Hoai - president of Thanh Son Commune People's Committee, Thanh Son, which belong to Ba Thuoc district, is in remoted area, difficulty. There are seven hamlets in total, 100% of the local population is ethnic minority people, people are facing many difficulties, the percentage of poor households is over 55%. Programs, supporting policies from the Government had reached to local people and supporting funds are successfully developed. Many socio-economic criteria are executed well; right now, 50 households are out of poverty thanks to economic supporting programs.
Mr. Le Van Hoai also said, through the process deploying ethnic policies, local area still faces difficulties and suggested that Government, CEMA create job opportunities for ethnic minority people after graduated colleges, universities, etc. Raising the annual funding resources of programs, schemes (Resolution 30a, Program 135) to create a chance of developing economy, building infrastructures, contributing to the poverty reduction for local ethnic minority people.
At the working session, Ba Thuoc District People's Committee reported the current situation of deploying ethnic policies, drawbacks and advantages in the deploying process. Furthermore, Ba Thuoc District also suggested that Government, CEMA continue to execute policy providing houses for the poor; increase the policies' investment to achieve higher result. Funds, instruction for programs, schemes to ethnic minority people should be synced, updated.
Knowing the difficulties and efforts of local authority, the Deputy Minister, Vice Chairman of CEMA Dinh Que Hai said: Right now, there are ethnic tasks which not suit with the reality. Therefore, in the future, we need to adjust those based on local resolution. CEMA will collect, conduct research and complete the build, complement and adjustment of some policies to create real motivation for development and change people mindset, awareness to improve people's living standard. Policy must create resource to efficiently lift people out of poverty. The Deputy Minister, Vice Chairman also suggested that cadres doing ethnic tasks in the area need to get closer to people to propagandize, instructure people about ethnic tasks.
THỐNG KÊ TRUY CẬP
Số lượt truy cập hiện tại: 48
Tổng số truy cập: