Corresponding the build of policy supporting gender equality's activities in ethnic minority area
02:57 PM 05/02/2018
Views: 225
Print
On June 30th, Hanoi, the Committee for Ethnic Minority Affairs associated with UN Women launched the "Specific policy supporting gender equality's activities in ethnic minority area term 2018 – 2025" Conference. Having authority of CEMA leader, Mrs. Nguyen Thi Tu, Head of The Department of Ethnic Minorities and Mrs.Vu Phuong Ly, superior expert of UN Women hosted the Conference.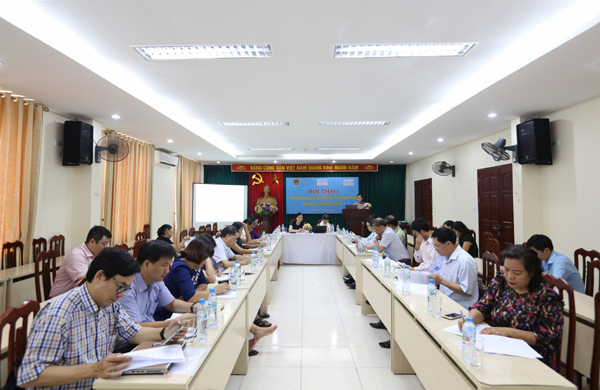 Addressing at the beginning of Conference, Mrs. Nguyen Thi Tu, Head of The Department of Ethnic Minorities said after 3 times taking internal opinions, this is the first time the Draft having various opinions from experts, representatives of Ministries, agencies and local authority. Therefore, the opinions from Conference's representatives will help Editing team to complete the Draft.
At the present, gender inequality in mountainous and ethnic minority area still has inadequacies which need to solve, including women in ethnic minority community has weaker role in family, community, society. They are facing many difficulties from their circumstances, living environment as well as cultural barriers leading to low interests.
Although the Government enacted the National Action Program on Gender Equality, lack of coordination among agencies in different levels still exists. The gender inequality can be clearly seen in many fields: 74% of ethnic minority households having male independently owns the right of land use (the rate in Kinh community is 41%); having uneven density of trained individuals (above 15) have job (the general rate is 19,9%; ethnic minority groups: 6,2%; ethnic minority women: 5,9%); the proportion of women participating political system is low; 11,4% is the percentage of women participating the commune authority which was included in 50% of ethnic minority cadres; the rate of taking the low leader position, especially the chief position is under 10%. Besides, the proportion of gender inequality also can be founded in other aspects such as Education & Training, Medical, Family, Culture, etc.
The scheme "Specific policy supporting gender equality's activities in ethnic minority area term 2018 – 2025" has a goal: creating a fast, practical transformation on gender equality; reaching goals of the National Strategy on gender equality in ethnic minority area and contributing the sustainable socio-economic development.
The content of scheme is focus on multi-media task; raise the ability; build and execute models promoting gender equality to ethnic minority community, Party organization, local authority, union, officials working in ethnic minority area.
According to representatives' opinion from the conference, the scheme needs to set a target, working process which suitable with the reality. Therefore, the name of scheme is very important since it decides the scheme's content.
The representatives also said the scheme needs to pay attention to targets which fit for the reality of Gender Equality promoting action in ethnic minority area. Although the gender inequality is in alarming level and many funding resources to promote Gender Equality in ethnic minority have been deployed, there is not have an efficient evaluation. Therefore, cadres from cetral, local authority need data separating gender in annually socio-economic goals to have a correct evaluation of resouces promoting gender equality.
THỐNG KÊ TRUY CẬP
Số lượt truy cập hiện tại: 9
Tổng số truy cập: